News
Here you can find the latest news on our work, research and travels.
January 22, 2020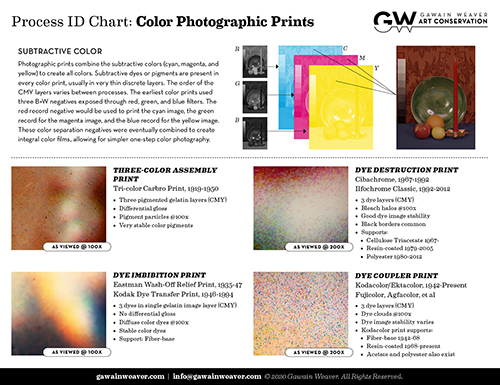 We're very excited to announce the latest installment in our series of Process ID Charts! The Color Photographic Prints Process ID Chart is now available for free download on our Process ID Resources page. Our process ID charts are valuable quick reference guides which help you to hone in on key identifying characteristics of a print in order to determine the process by which it was made. Find out more by visiting our Process ID Resources page.
January 21, 2020
What: Care and Identification of Photographs, ONLINE
When: March 30 - May 17, 2020
Where: Online
Who: archivists, curators, collections managers, collectors and YOU! No experience necessary!

FOR FURTHER DETAILS AND ONLINE REGISTRATION:
https://gawainweaver.com/workshop/spring-2020-care-id-online-workshop

This course can be taken from any computer (Mac, Windows, even Linux) and only requires access to the Canvas learning management system website and Zoom videoconferencing software (both free). One could even do the course on a tablet or phone running the Canvas and Zoom apps. The weekly live chat on Zoom occurs once a week on Thursdays, at 1pm PST, and is also recorded for students who cannot attend the live chat. Lectures, readings, quizzes, crossword puzzles, and other monster mayhem photo fun are done on your own schedule, each week.
Comments from students who took the course in Fall, 2019:
"I highly recommend investing in your professional development by taking this multiple week course. You have access to one of the most talented and generous conservators in this field."
—Darlene Bialowski, Principal, Darlene Bialowski Art Services, LLC, Southwest New Hampshire

"For any serious collector, taking this course is time and money extremely well spent."
—Michael R. Whalen, Esq., Pasadena, California

"Definitely the place to come to get a great overview of photographic processes and materials, and how to care for them."
—Erna Tidy, Collection Technician, Documentary Heritage, Tāmaki Paenga Hira, Auckland War Memorial Museum, NZ

"This was the best course I have taken in a long time. The material was new to me, but Gawain presented it clearly and reinforced it through a variety of formats. He is an engaging instructor, and patiently answered all our individual questions."
—Vanessa Hardy, Conservation Technician, San Francisco Public Library

"Gave me skills and knowledge that I was able to apply directly back to my archival work. The online format allowed me to balance my day-to-day work and not have to travel cross-country. . . . Having the chance to learn from Gawain and interact with other colleagues in the course was incredibly beneficial."
—Catherine Mayfield, Library Director, Maryland Historical Society

"I've been wanting to take the Care and ID of Photographs course for years now, and the online version did not disappoint."
—Danielle Creech, Head of Preservation & Digitization, Washington University in St. Louis
August 15, 2014
This list of photographic processes may not have the most exciting title, but over the last five years many of the participants in my Care and ID of Photographs workshop have asked for a list of photographic process names. I have drafted several versions attempting to fulfill the needs of a diverse audience including auction houses, museums, archivists, and curators. Each attempt came up short and the lists have never been shared.
However, over the past year I have worked as a consultant with conservators and curators at the Los Angeles County Museum of Art (LACMA) on an IMLS-funded survey of the museum's photography collection. This was the perfect opportunity to complete the list and put it to work in cataloging a very large and diverse photography collection. Many modifications were made as we worked together and with the Museum's TMS database to make the list as accurate and practical as possible. So a special thanks to LACMA and the IMLS for their assistance in developing this document.
There is no perfect list of photographic processes, but I believe this document is a good start and is a practical list for most of the over 500 professionals to whom I have had the pleasure of teaching process ID and photograph preservation over the last 5 years.
Download Photographic Process Controlled Vocabulary as a PDF document here
If you would like the original spreadsheet for editing please send us an e-mail and we will be happy to share it with you.
We have established a LinkedIn group as a forum for discussions about the controlled vocabulary list including suggestions for additions and changes, as well as more general discussions about process ID and nomenclature. Please join us on the Photo Process ID and Nomenclature group.
July 21, 2013
The Adobe "Classroom in a Book" is the official training workbook from Adobe Systems. Made for each of Adobe's flagship products, the most recent workbook for the new CC edition of Adobe Photoshop features Gawain Weaver Art Conservation with a comparison between the tools and techniques of a photograph conservator and their digital counterparts in the Photoshop software.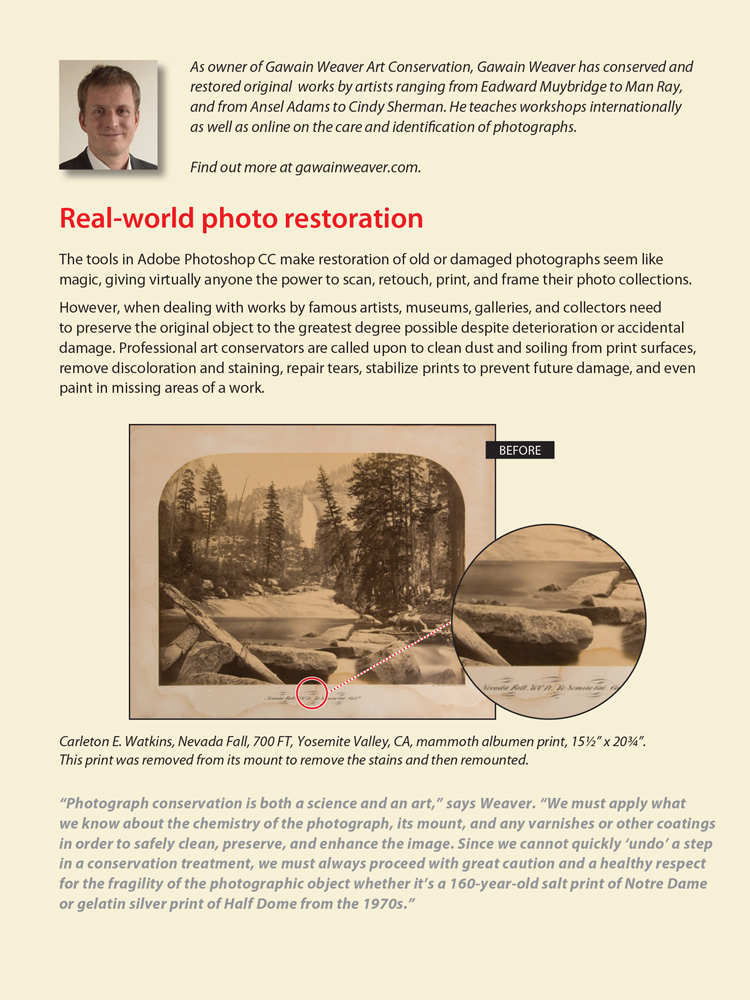 March 22, 2013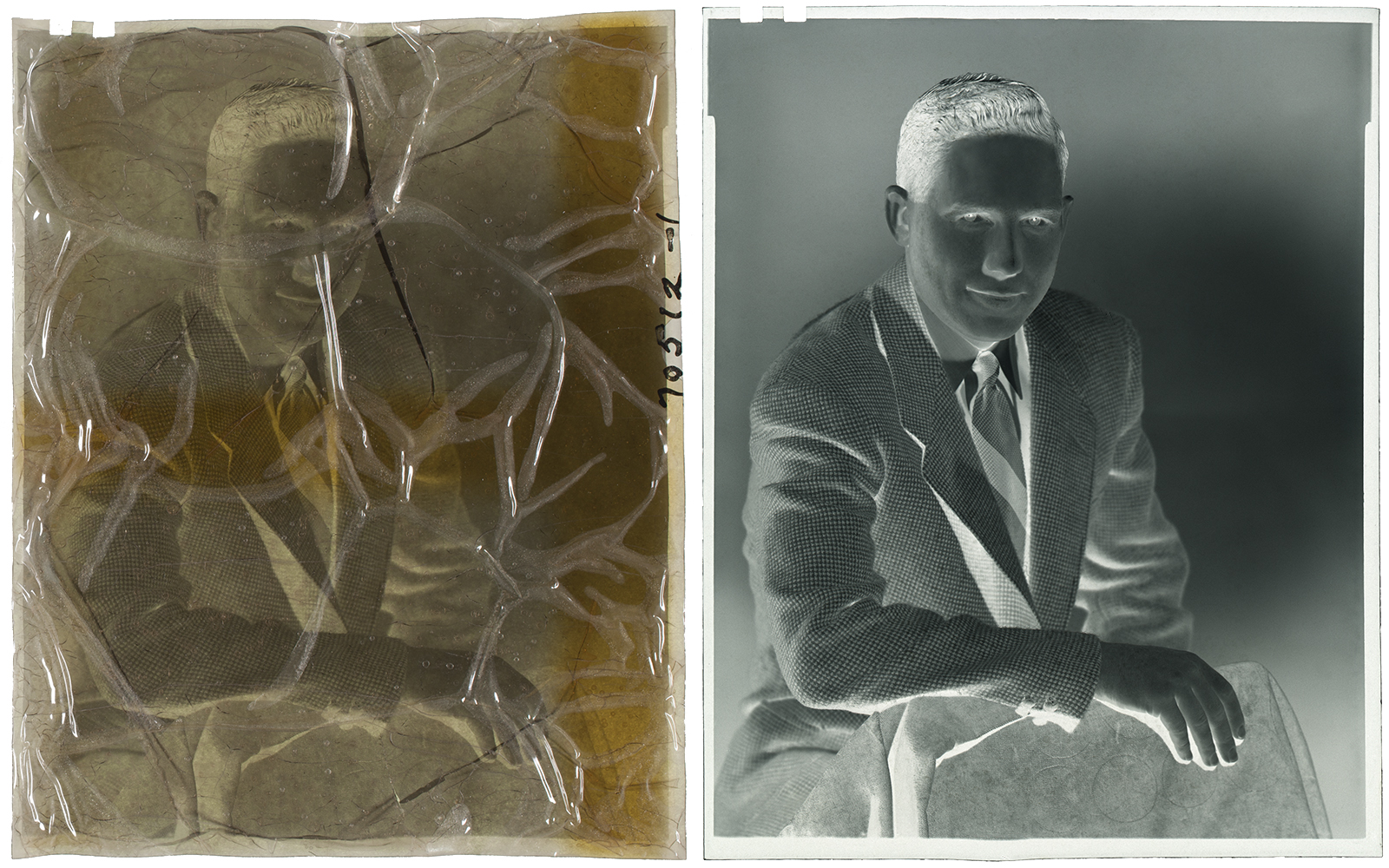 When photographic film with a cellulose acetate support begins to deteriorate we say it has vinegar syndrome because it forms acetic acid (among other deterioration byproducts) and smells like vinegar. The acetate support also shrinks and becomes brittle eventually pulling away from the gelatin image layer in patterns often called channeling. The plasticizer in the acetate support comes to the surface and forms small bubbles between the acetate support and the gelatin image layer. With all this deterioration and deformation it becomes impossible to print or scan the negative and get a good quality result. Cold storage is the only way to slow down this deterioration process, but it can't reverse deterioration that has already occurred. So for some negatives it is necessary to separate the very thin gelatin image layer from the deteriorating support. This technique of "emulsion stripping" was first pioneered in Canada in the 1960s as a photomechanical layout technique for combining graphic elements in the creation of camera ready art for printing. It was adopted in the United States also for graphic arts purposes in the 1970s and by the 1980s was being used for the first time as a conservation method for deteriorated acetate negatives. It turns out that even after all the dramatic deterioration of the acetate film base, the gelatin image layer is usually still OK, and can be separated, scanned, and then stored safely. The new digital image file can then be written back to a new sheet of polyester-base film or stored in a digital repository. Gawain Weaver Art Conservation has been performing this process for several years. Please contact us to discuss your project.
February 01, 2013
Photograph Conservation Workshop
for Book and Paper Conservators
Instructors: Gawain Weaver and Jennifer Olsen
Course Description
Libraries and archives collect more than books and manuscripts. Textiles, digital files and audio-visual materials are common in collections. Photographs are probably the most-represented media after paper-based objects, but their value is usually to the collection as a whole not as individual artist's prints. Conservators working in libraries and archives are charged with their care, but often feel they don't have the knowledge and skills to address basic conservation issues at the collection level. In this class, conservators will learn about the history and composition of photographs, housing and exhibit strategies, and basic cleaning, stabilization, and repair techniques for 19th and 20th century photographic prints.

Basic process identification will not be covered in depth. Though it is not a prerequisite, a Care and Identification of Photographs workshop will be taught the week prior at the same venue and provides a solid foundation for this more advanced course.
Format
4-day workshop, mix of lecture and hands-on instruction, 4-day schedule available on request
Who Should Attend
This class is taught at an intermediate to advanced level. Participants should have experience in book or paper conservation in evaluating condition, making treatment decisions, and performing intermediate to advanced level conservation treatments.
What's Included
4-days of instruction, color workshop notebook, a variety of damaged photographic materials for workshop treatment and take home, 60x handheld microscope. Participants should bring their own tools though some will be provided.
How To Apply
Application deadline July 1st, responses sent by July 15th.
Send CV and a brief letter explaining your reasons for attending the workshop to workshops@gawainweaver.com. Mid-career experience level in book or paper conservation strongly preferred. Applications accepted and reviewed on a rolling basis after the deadline if there is still space in the workshop. Workshop registration and materials fee of US$1500.00 payable upon acceptance.
September 14, 2012
Hands-On Workshop: Accurate Elemental Nondestructive XRF
November 5-6, 2012
Gawain Weaver Art Conservation
18 Greenfield Ave
San Anselmo, CA 94960
Cost: FREE
There is limited space in this workshop.
Please contact Gawain Weaver to apply for workshop:
xrf@gawainweaver.com. Workshop includes:
Information about the physics of XRF (X-ray fluorescence)
Demonstrations showing how to apply this technique to elemental analysis of virtually anything
Analysis of YOUR samples
XRF instruments for hands-on learning
Workshop Instructor: Dr. Bruce Kaiser, Chief Scientist, Bruker Elemental, Handheld XRF
Bruce is an internationally-known expert and has taught in over 300 museums and universities worldwide. He has broad and deep technical knowledge of the challenges facing scientists, curators and conservators of very diverse collections and materials.
Please visit our new XRF page for more information.
January 24, 2012
Please join us in celebrating the opening of our new studio Saturday, February 11, 2012, 6–9pm @ 18 Greenfield Avenue, San Anselmo, CA
Welcoming conservator Jennifer Olsen who joined our studio in 2011!
Featuring a magic lantern Autochrome show, a photo booth, highlights from the studio's photographic study collection, and examples of conservation treatments.
Magic Lantern Autochrome Show: See the world's first color images that amazed viewers upon their introduction in 1907. These color images are rarely projected due to their great fragility.
Refreshments will be served. No RSVP necessary.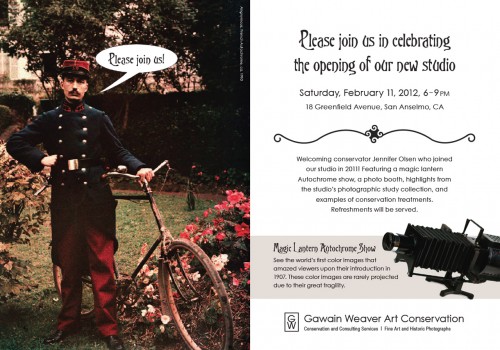 September 01, 2011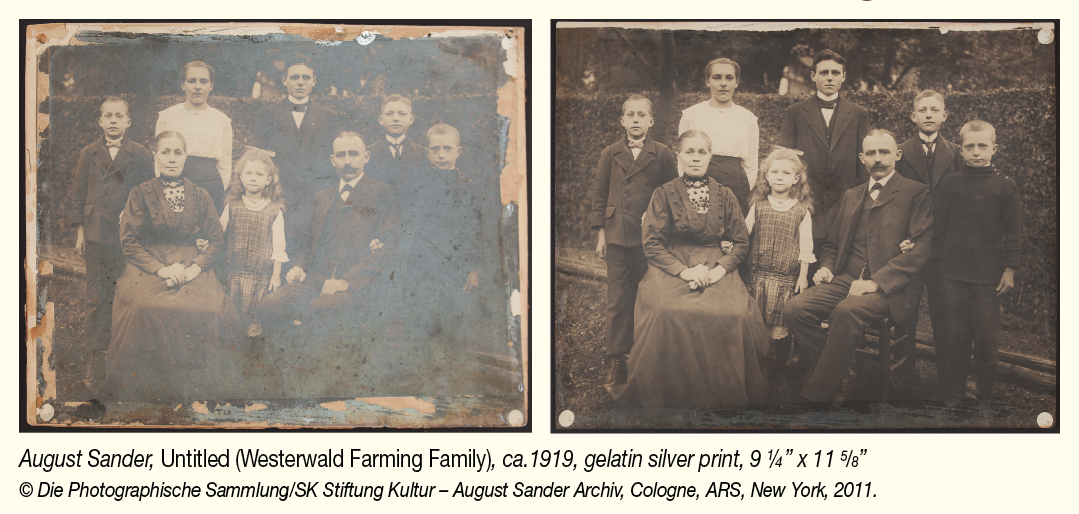 This image by German portrait photographer August Sander was featured in our ad in the Sept/Oct 2011 issue of Photograph magazine. The surface of the print was cleaned, tapes and adhesives were removed, and the missing upper left corner was filled and toned so that it does not detract from the viewing of the image overall. The metallic sheen on the surface of the print is called silver-mirroring, and occurs in the dark areas of silver prints. It is the result of the silver image particles breaking down. Some of the image silver travels to the surface and forms a visible mirror-like coating of silver oxides and silver sulfides on the print surface. The visibility of the silver-mirroring on this print is enhanced in the before treatment photograph by the angle of the lighting. Prior to treatment the silver-mirroring was blotchy and uneven. It distracted from the viewing of the image and obscured shadow detail. Surface cleaning was done so as to slightly reduce the silver mirroring and make it more even, less distracting, and to enhance detail in the shadows. While it is acknowledged that silver-mirroring is a form of silver image deterioration and was not the artist's intent, it also functions as a sign of authenticity in older gelatin silver prints. In the treatment of fine art photographs therefore, the reduction of silver-mirroring is never approached lightly, but it is occasionally done in order to minimize any disfiguring effect upon the image. Silver-mirroring is never removed completely, except in the case of certain family photographs. To learn more about the deterioration of gelatin silver prints, see Gawain Weaver's Guide to fiber-base gelatin silver print condition and deterioration.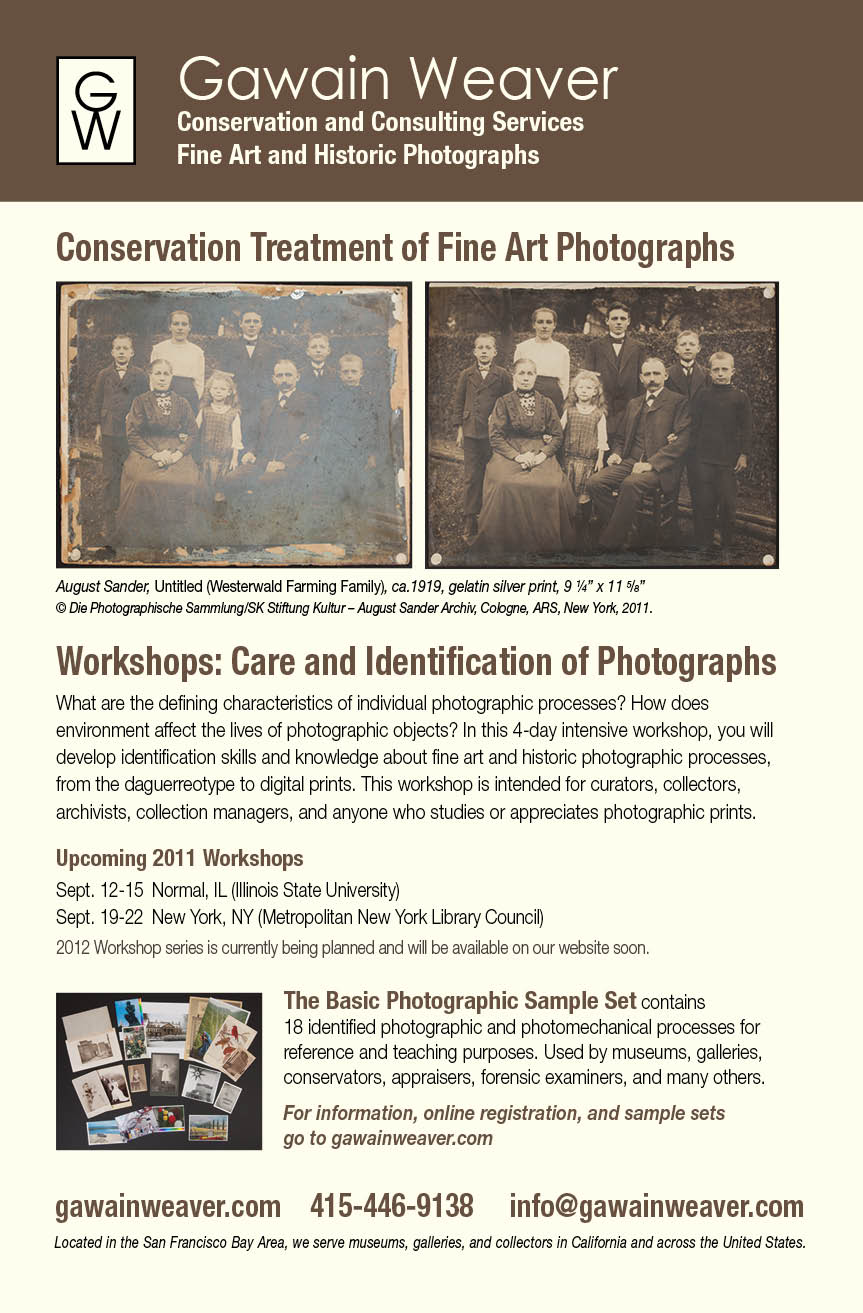 February 20, 2011

We recently completed conservation treatment of a remarkable panorama of San Francisco from the collection of The Society of California Pioneers. Taken by Eadweard Muybridge from Mark Hopkins' mansion at the top of Nob Hill (now the site of the InterContinental Mark Hopkins Hotel), this 360-degree panorama shows the extraordinary growth of this city in the 30 years since the discovery of gold at Sutter's Mill in January of 1848. At that time, San Francisco was a small town of only 1000 people and by 1878 the city boasted a population of over 200,000.
The panorama consists of 13 albumen prints, each mounted to a sheet of paper, and then attached to a continuous sheet of fabric to form a nearly 18' long panorama. Each image is about 20 5/8" high.
Each of the 13 images was captured on a mammoth wet collodion negative over a period of perhaps 4 or 5 hours (about 20 minutes for each negative). The angle of the sun and the shadows in the images change noticeably from the first picture to the last. Each mammoth plate negative was then contact printed onto albumen paper, rendering an extraordinary degree of detail in the final print.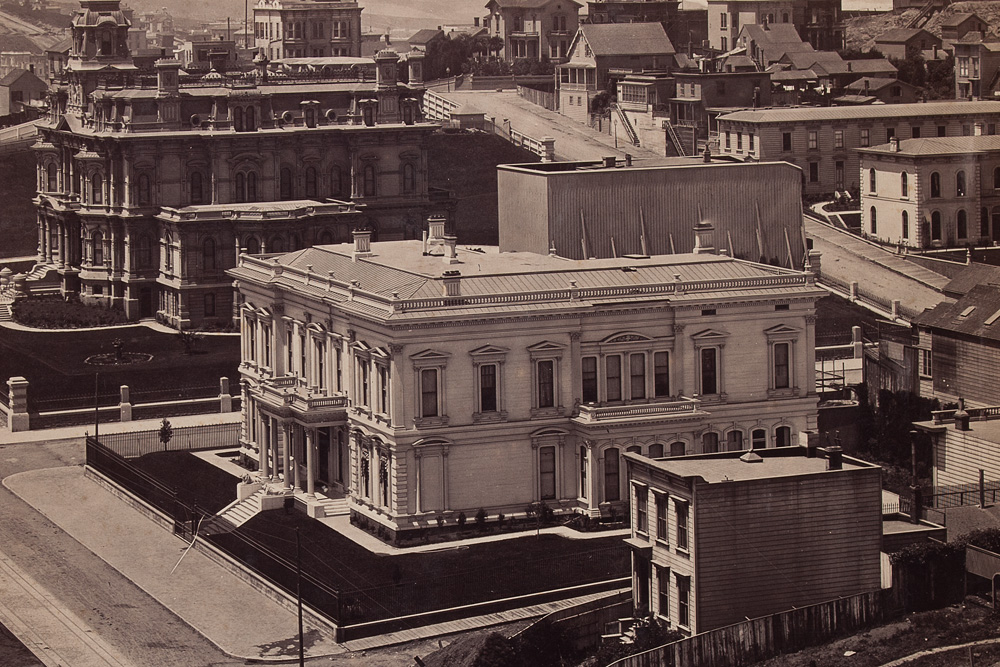 Two of the highlights of the panorama for us were the infamous Crocker Spite Fence (above) and the Aldine photography studio (below)—the only photographic studio we found during the six weeks the panorama was in our studio.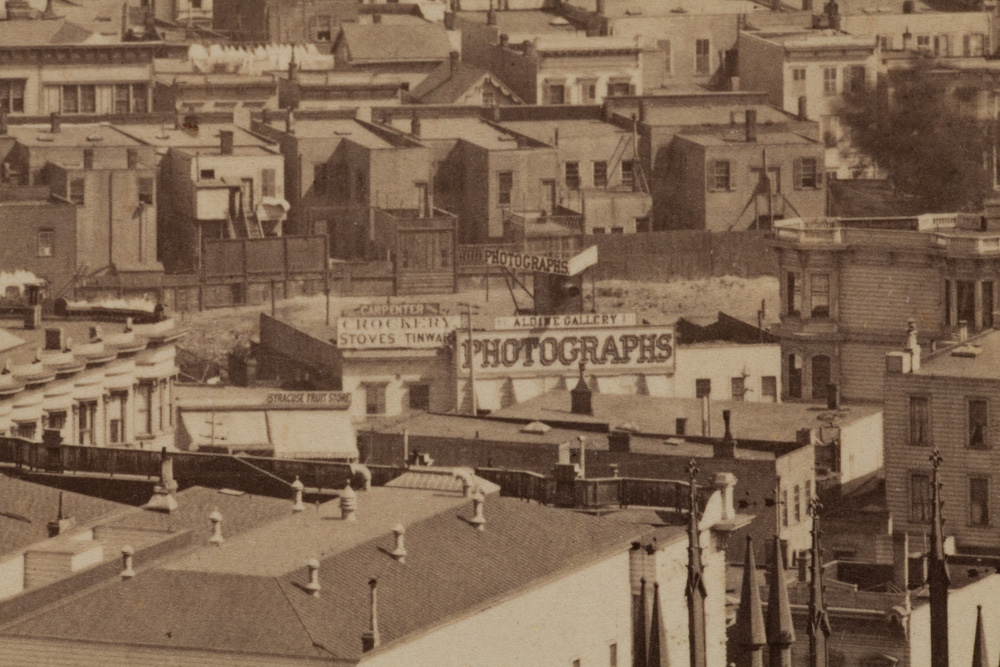 Conservation treatment began with surface cleaning the albumen prints, their mounts, and the backing fabric. The adhesive keeping the parts of the panorama together was beginning to fail in many areas, so we reattached the prints and the mount with wheat starch paste. Certain areas were cockled or folded and we locally humidified and flattened as necessary. Many fly specks and other surface accretions that had accumulated over the past 130 years were removed mechanically with the aid of a microscope. The treatment was intentionally very minimal. We wanted only to preserve the object in its present condition, leaving the clear signs of age, but making sure that the panorama can be carefully unfolded for study or exhibition without causing further damage to the prints or their backings.
There are 9 known copies of this panorama, and one will be on exhibit at SFMoMA from February 26 - June 7, 2011 as part of the exhibit Helios: Eadweard Muybridge in a Time of Change.