Welcome
We provide conservation treatment and consulting services to museums, galleries, collectors, historical societies, libraries, and individuals. Our services range from the treatment of individual fine art prints, to the care of large print and negative collections.
We also offer a range of educational opportunities and products, including workshops, both online and in-person, historic photographic sample sets, and XRF analysis and rentals.
New & Upcoming
January 22, 2020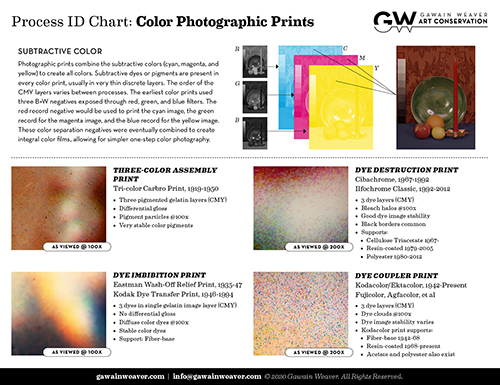 We're very excited to announce the latest installment in our series of Process ID Charts! The Color Photographic Prints Process ID Chart is now available for free download on our Process ID Resources page.
More.
January 21, 2020
Registration is now open for the Spring session of the Care and Identifications of Photographs online course. This is a 7-week online version of the 4-day intensive workshop Gawain has taught at various locations throughout the country over the past decade.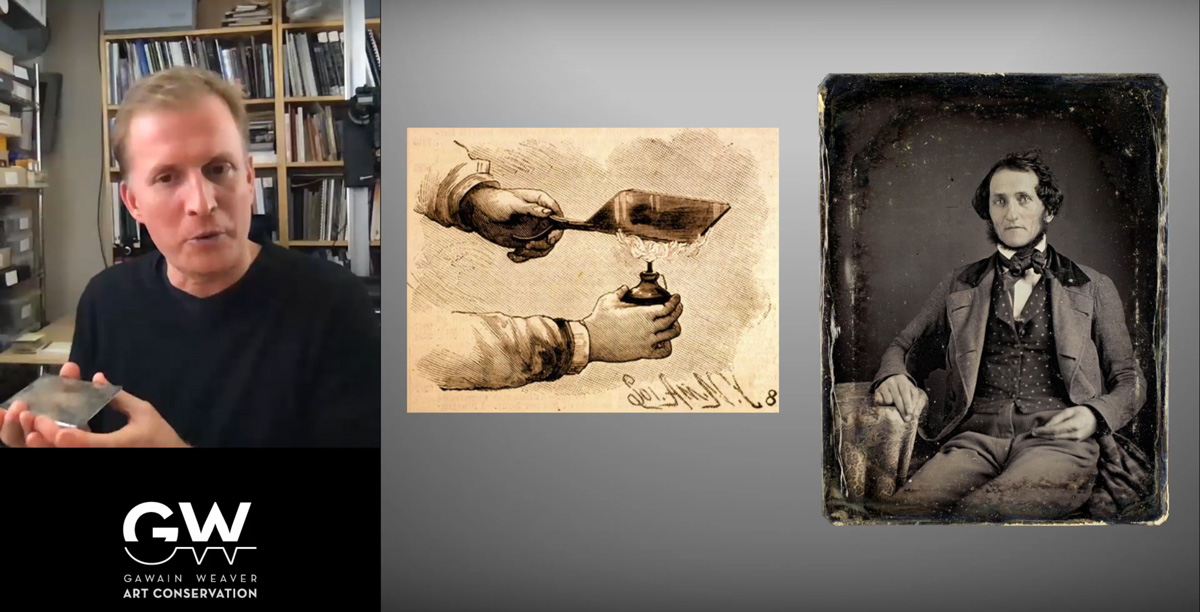 What: Care and Identification of Photographs, ONLINE
When: March 30 - May 17, 2020
Where: Online
Who: archivists, curators, collections managers, collectors and YOU! No experience necessary!
More.
August 15, 2014
A new list of controlled vocabulary for use in the description and cataloging of photographs is now available as a free download. It was developed as part of an IMLS-funded survey of the photograph collection at the Los Angeles County Museum of Art. Further information can be found after the jump and on the Photographic Processes page.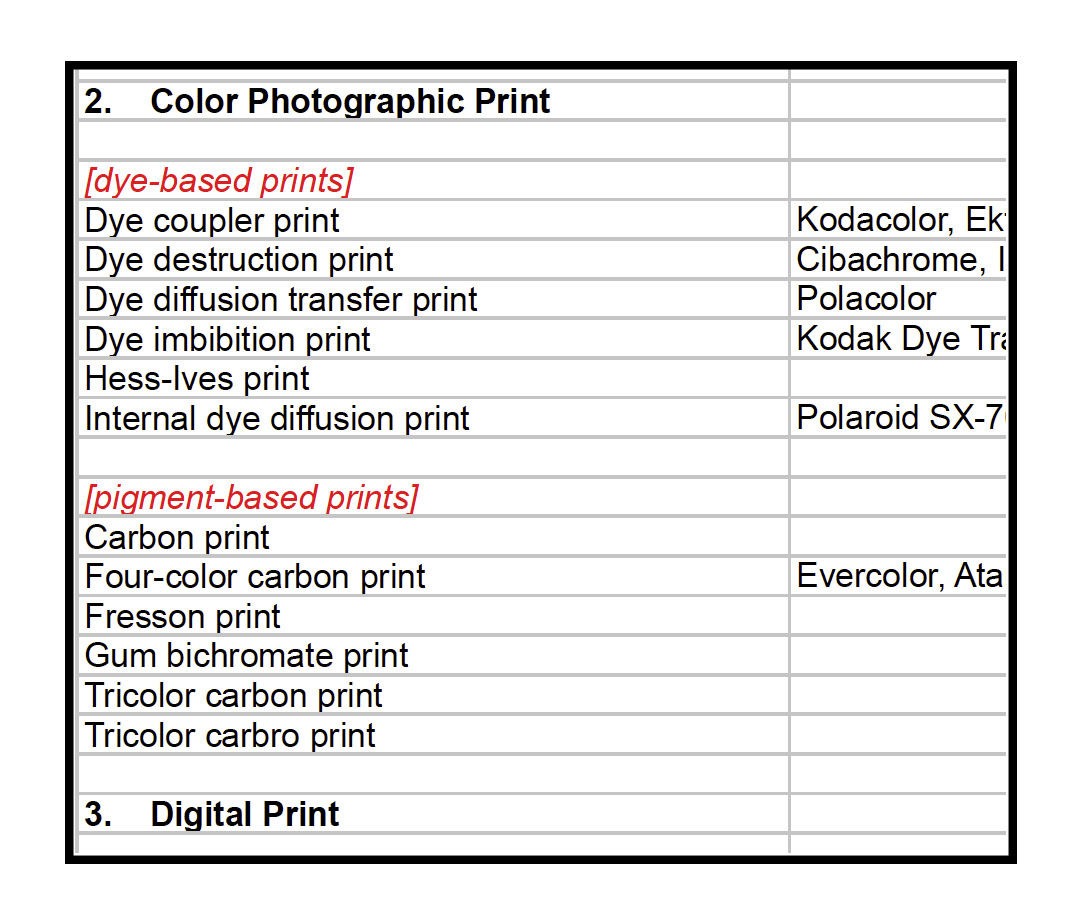 More.
July 21, 2013
The Adobe "Classroom in a Book" is the official training workbook from Adobe Systems. Made for each of Adobe's flagship products, the most recent workbook for the new CC edition of Adobe Photoshop features Gawain Weaver Art Conservation with a comparison between the tools and techniques of a photograph conservator and their digital counterparts in the Photoshop software. See the full sidebar after the jump.
More.
March 22, 2013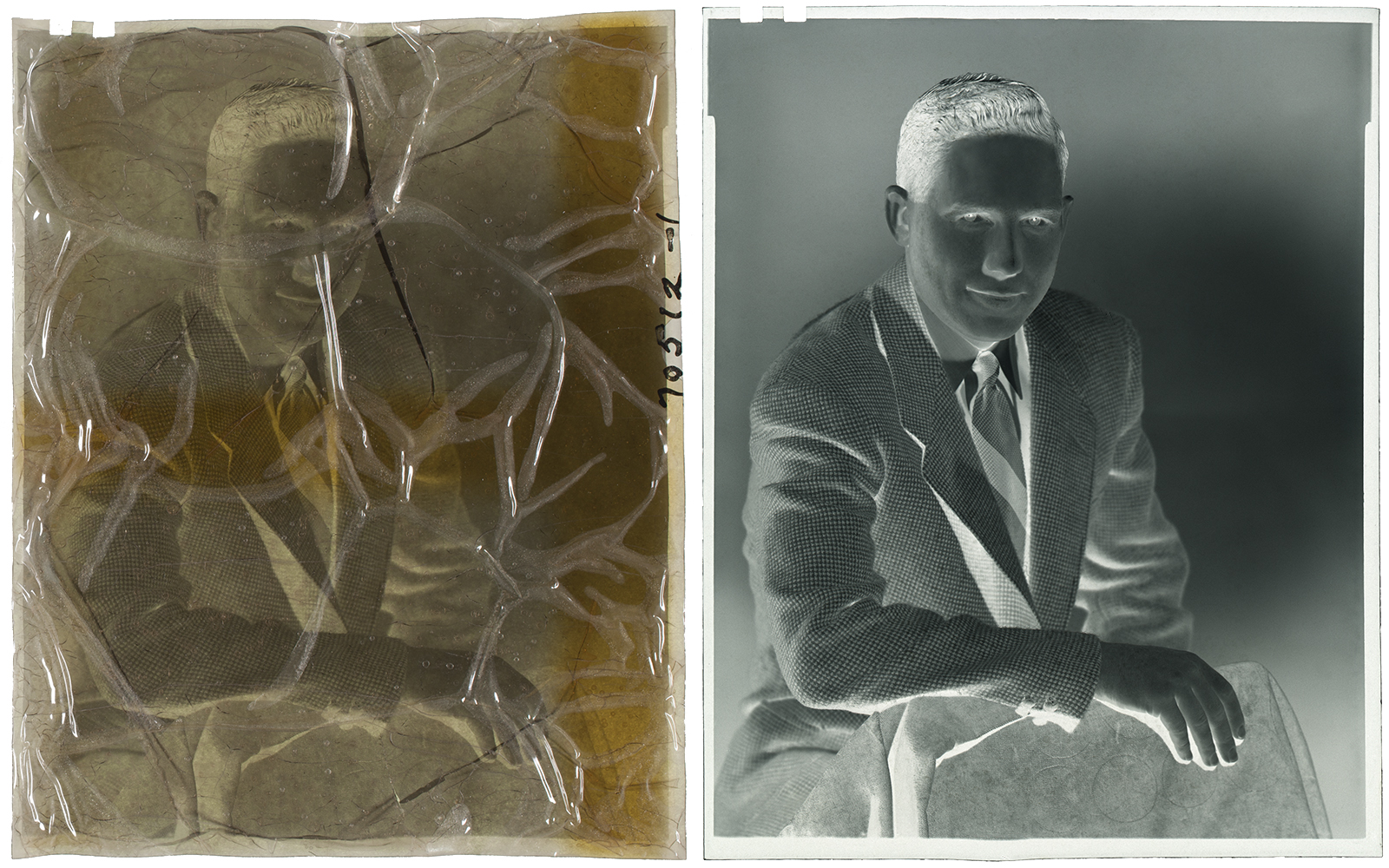 When photographic film with a cellulose acetate support begins to deteriorate we say it has vinegar syndrome because it forms acetic acid (among other deterioration byproducts) and smells like vinegar. The acetate support also shrinks and becomes brittle eventually pulling away from the gelatin image layer in patterns often called channeling. The plasticizer in the acetate support comes to the surface and forms small bubbles between the acetate support and the gelatin image layer. Find out how it can be fixed after the jump.
More.