Store
Below are items for sale. Please contact us for further details on any of the items.
Photographic Sample Sets
Sample sets can be used in workshops on the care and identification of photographs.
Basic Sample Set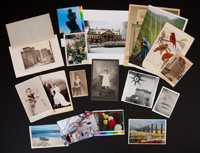 The Basic Sample Set was created as a starter set of 18 photographic and photomechanical processes. It includes a 60x-100x handheld microscope with an LED light that is used for process identification in workshops and classes. There is a discount when purchased as part of an online or in-person workshop.
Processes included: albumen, collodion POP, gelatin POP, matte collodion, gelatin silver print FB, gelatin silver print RC, letterpress halftone, offset lithography, rotogravure monochrome, rotogravure color, collotype, chromogenic color RC, chromogenic color FB, inkjet dye-based, inkjet pigment-based, dye sublimation, electrophotographic, photogravure
Basic Sample Set for scholarship recipients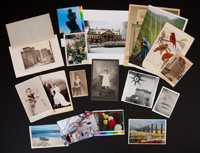 Scholarship Workshop Materials including Basic Sample Set
Cased Images Sample Set

Historic and authentic samples of three photographic processes (often housed in cases) from the earliest decades of the medium: daguerreotype, ambrotype, tintype. Each set is unique, but is similar to the one shown here.
Lippmann plate sample set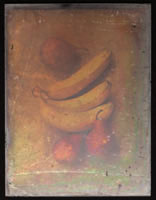 This sample set consists of one Lippmann glass plate, 4 3/4" x 3 1/2". It is a modern example of an early color photographic process invented by Luxembourgian physicist, Gabriel Lippmann (1845-1921), which earned him the Nobel Prize in Physics for 1908. This method for reproducing colours by photography is based on the interference phenomenon. The photograph is composed of a silver image in an albumen binder. The spacing of the particles is the key to the interference between light waves that creates the color. This plate requires a higher humidity (more swollen image binder) in order to have the correct image particle spacing and create true colors. Breathe gently on the plate as you would when cleaning a pair of glasses and watch the colors change. Each plate is unique, but is similar to the one shown here. E-mail info@gawainweaver.com to choose an image.
60x Lumagny Handheld LED Microscope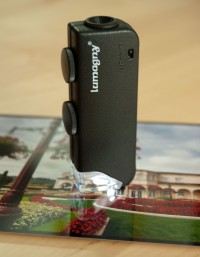 LUMAGNY HANDHELD MICROSCOPE
This handy microscope is included with the Basic Sample Set and by popular demand can now also be purchased separately. Perfect for the library, conservation studio, or flea market.
60x-100x magnification
LED light
Compact, easily fits in pocket
Requires 3 button cell batteries (included)
3 extra replacement batteries (included)
Long-lasting batteries, inexpensive to replace
Protective case
1-Layer Photograph Sample Set
Historic print samples of the three 1-layer photographic processes: salted paper print, platinum print, cyanotype. Each set is unique, but is similar to the one shown here.
Limited availability.
Color Sample Set
Autochrome on glass, Autochrome on plastic support (1930s), Dufaycolor on plastic support, Ilfochrome Color Print, Kodak Color Prints: 1940s, 1955-58, 1960s, 1970s, 1980s, 1990s, 2000s
Negatives Sample Set
Wet plate collodion negative, dry plate negative, B+W negative on nitrate support, B+W negative on acetate support, chromogenic color negative, Ektachrome transparency (medium format), pre-1972 Kodachrome transparency (35mm), post-1972 Kodachrome transparency (35mm), non-Kodak coupler-incorporated chromogenic transparency (medium format)
Rare Digital Print Sample Set
3M Color-in-color print (Limited Edition artist print, early 1970s), Cycolor (printed in 2009 on one of the last remaining Cycolor printers)
Limited availability.
Photograph Conservation Related Books
This is a selection of books that we find to be particularly informative in the study of the technical history of photography. They are all out-of-print and often very difficult to find.
Pioneers of Photography: Their Achievements in Art and Science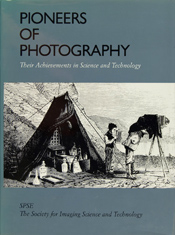 Eugene Ostroff, Editor
(3 copies available)
Photography's Great Inventors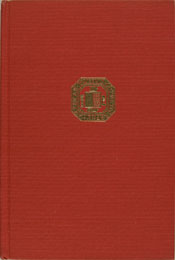 by Louis Walton Sipley
Published in 1965 by the American Museum of Photography (Philadelphia).
Memoirs of a Photochemist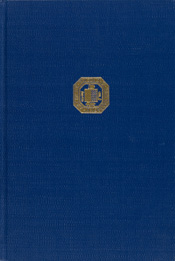 by Dr. Fritz Wentzel
This book, published in 1960 by the American Museum of Photography (Library of Congress #59-14970), details the extraordinary life of Dr. Fritz Wentzel as he pursues his life's work in photography. Details his life from his graduation from University in the early 1900's in Germany, through the 1950's with such companies as NPG (Neue Photographische Gesellschaft), Gevaert and Ansco. There are many interesting plates and discussions of early production of bayrta papers, trials of acetate based film as early as 1909, tales of the problems of choosing a suitable gelatin for emulsion making, and observations on Lumiere Autochrome Color plates. A wealth of historical information on early photography.
Only two copies available.
Kodak Master Darkroom Dataguide
Kodak Publication No. R-20. This 28-page darkroom reference guide for black and white printing was made available in many different editions between the 1950s and 1970s. Contains a useful set of 20 Kodak gelatin silver print samples, each with a different surface (matte, gloss, silk, linen, luster, etc), and a chart giving information about the surfaces and their intended use. An important reference for anyone wanting to learn gain an in-depth understanding of the 20th century's most important photographic process.