Opening Reception and Magic Lantern Autochrome show
January 24, 2012
Please join us in celebrating the opening of our new studio Saturday, February 11, 2012, 6–9pm @ 18 Greenfield Avenue, San Anselmo, CA
Welcoming conservator Jennifer Olsen who joined our studio in 2011!
Featuring a magic lantern Autochrome show, a photo booth, highlights from the studio's photographic study collection, and examples of conservation treatments.
Magic Lantern Autochrome Show: See the world's first color images that amazed viewers upon their introduction in 1907. These color images are rarely projected due to their great fragility.
Refreshments will be served. No RSVP necessary.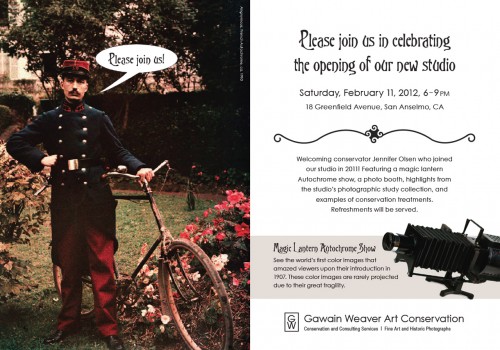 Next post: News: XRF Workshop and Analysis
Prev post: News: Conservation of a gelatin silver print by August Sander