Conservation of an 1878 San Francisco Panorama by Eadweard Muybridge
February 20, 2011

We recently completed conservation treatment of a remarkable panorama of San Francisco from the collection of The Society of California Pioneers. Taken by Eadweard Muybridge from Mark Hopkins' mansion at the top of Nob Hill (now the site of the InterContinental Mark Hopkins Hotel), this 360-degree panorama shows the extraordinary growth of this city in the 30 years since the discovery of gold at Sutter's Mill in January of 1848. At that time, San Francisco was a small town of only 1000 people and by 1878 the city boasted a population of over 200,000.
The panorama consists of 13 albumen prints, each mounted to a sheet of paper, and then attached to a continuous sheet of fabric to form a nearly 18' long panorama. Each image is about 20 5/8" high.
Each of the 13 images was captured on a mammoth wet collodion negative over a period of perhaps 4 or 5 hours (about 20 minutes for each negative). The angle of the sun and the shadows in the images change noticeably from the first picture to the last. Each mammoth plate negative was then contact printed onto albumen paper, rendering an extraordinary degree of detail in the final print.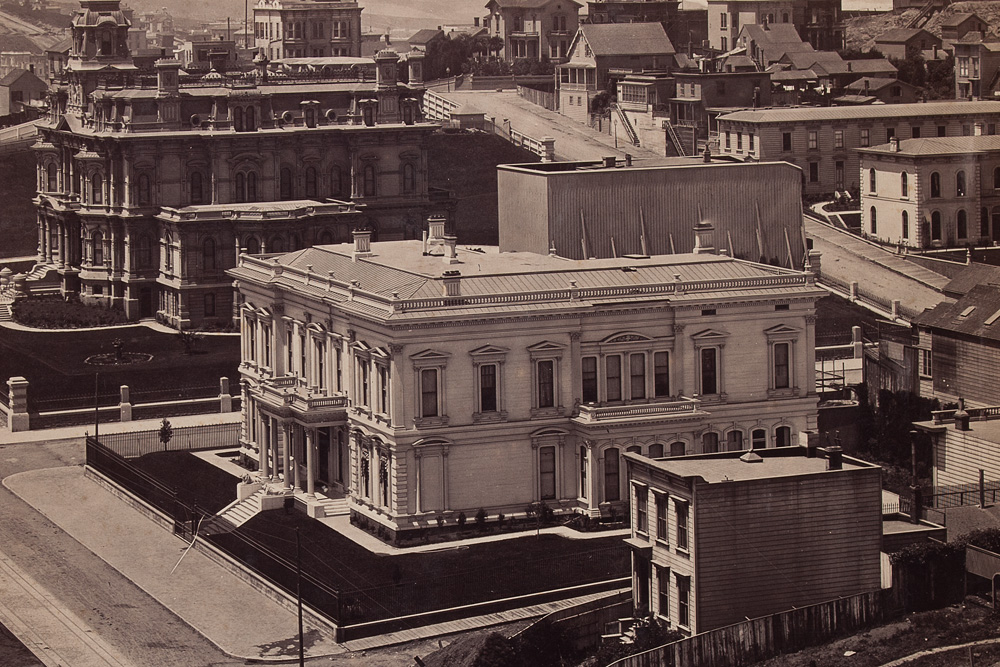 Two of the highlights of the panorama for us were the infamous Crocker Spite Fence (above) and the Aldine photography studio (below)—the only photographic studio we found during the six weeks the panorama was in our studio.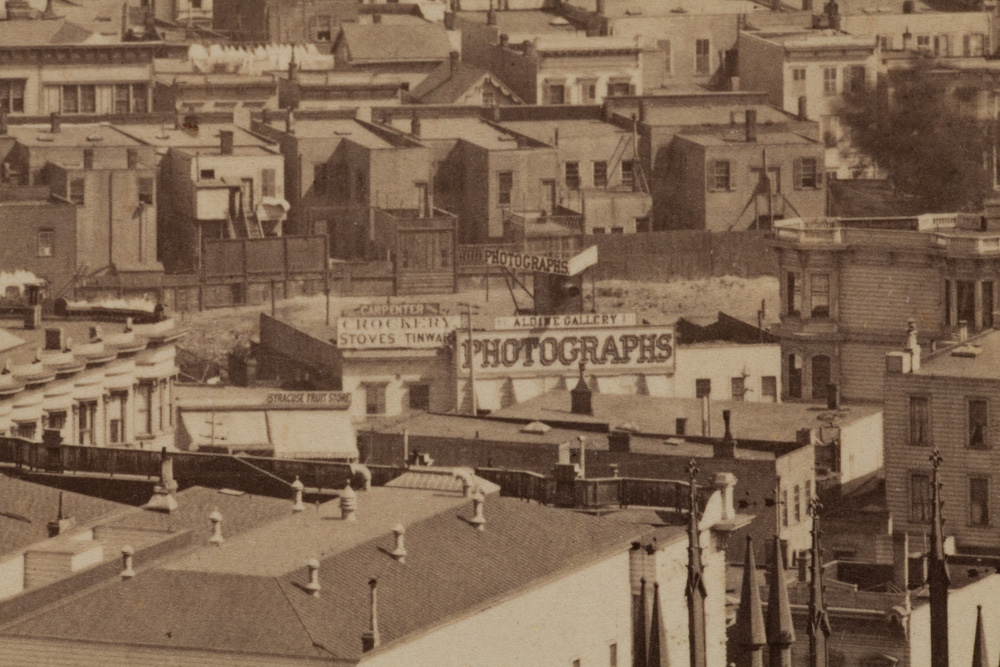 Conservation treatment began with surface cleaning the albumen prints, their mounts, and the backing fabric. The adhesive keeping the parts of the panorama together was beginning to fail in many areas, so we reattached the prints and the mount with wheat starch paste. Certain areas were cockled or folded and we locally humidified and flattened as necessary. Many fly specks and other surface accretions that had accumulated over the past 130 years were removed mechanically with the aid of a microscope. The treatment was intentionally very minimal. We wanted only to preserve the object in its present condition, leaving the clear signs of age, but making sure that the panorama can be carefully unfolded for study or exhibition without causing further damage to the prints or their backings.
There are 9 known copies of this panorama, and one will be on exhibit at SFMoMA from February 26 - June 7, 2011 as part of the exhibit Helios: Eadweard Muybridge in a Time of Change.
Next post: News: Conservation of a gelatin silver print by August Sander
Prev post: News: SF Camerawork Benefit Auction 2010