Care and Identification of Photographs
June 24-25, 2015: San Francisco, CA - 2-day Care & ID Workshop
This is a 2-day version of our Care and ID of Photographs workshop. It focuses on the fundamentals of identifying print processes and caring for photographs. It is intended for collections and preservation staff tasked with cataloging, preserving, and curating photographic collections. It will provide a wealth of information about photographs and their preservation. For an even more intensive, more hands-on, and more detailed look at the chemistry, technological developments, and the less common printing processes used by fine art photographers, consider our 4-day intensive Care and ID of Photographs workshop.
Registration Includes:
2-day workshop (9:00am-4:30pm each day)
200-page color notebook
60x LED handheld microscope
OPTIONAL: Basic Photographic Sample Set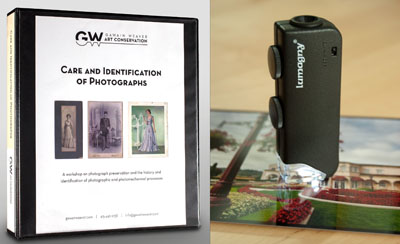 This 2-day workshop is an introduction to the history, identification, and preservation of photographic materials. Participants will acquire hands-on identification skills and learn practical photograph preservation techniques. Using handheld 60x microscopes and a large set of photographic and photomechanical samples, they will learn how a variety of processes were created, why they look the way they do, and how they deteriorate. Knowledge about photographic processes is essential to their preservation and leads to a greater appreciation of the aesthetics and history of photographic prints.
Preservation topics include enclosures, handling guidelines, environmental monitoring, the effects of temperature and relative humidity on collections, and the importance of cold storage for certain photographic materials.
Cased images, negatives, photomechanical prints, 19th century photographs, color, and digital will all be explored in detail. Hands-On ID sessions, using a digital microscope and screen projection, will allow participants to see many real examples of each process and practice identification skills in a guided setting.
A 200-page workshop notebook (printed in color) and a 60x handheld microscope w/LED light is given to every participant to take home. The Basic Photographic Sample Set, consisting of 18 identified photographic and photomechanical processes, is available at the time of registration for $75. The price for the Sample Set without workshop registration is $175.
The Academy of Certified Archivists (ACA), a certifying organization of professional archivists, will award 7 Archival Recertification Credits (ARCs) to eligible Certified Archivists (CAs) attending this workshop.
The American Society of Appraisers, the International Society of Appraisers and the Appraisers Association of America will award 12 reaccreditation hours/professional development/continuing education credits for qualified appraisers attending this workshop.
Workshop Cancellation Policy:
Full Refund if requested up to 3 weeks before the workshop.
50% of the fee will be refunded if requested between 3 weeks and 1 week before the workshop.
If the refund is requested more than 60 days after initial registration AND payment was via Paypal a $30 fee will apply due to Paypal policies.
Cancellations made within one week will not result in a refund.
Should the workshop be cancelled for any reason, full refunds will be made.